Join a community of 200+ Mentors
Share your expertise and knowledge to inspire and empower underprivileged youth in Indonesia to be the next generation of innovators.
Why volunteer with Markoding

Have a direct impact
Share your knowledge to help underprivileged youth in Indonesia learn 21st-century skills, enabling them to get better job opportunities and better livelihoods.

Build credibility
By volunteering as mentors, you show dedication, commitment, and values by contributing to our community, which will also enhance your professional credibility.

Like-minded community
Connect with more than 200+ professionals from various disciplines united by the same passion to contribute to empowering underprivileged youth in Indonesia through innovation and technology.

Develop soft skills
By becoming a mentor, you will improve your creativity, project management skills, and communication skills, which will also benefit your professional development.
Who can participate as mentors?
Coding Mentors
Web developers or game developers with a minimum of 2 years' professional experience in software development.

Product & UI/UX Mentors
UI/UX designers, product designers, UX researchers, product managers, with a minimum of 2 years' professional experience in UI/UX design or product management.
Industry Mentors
Practitioners and entrepreneurs from all disciplines (e.g., education, psychology, health, public policy, environment, and many more) with a minimum of 2 years' professional experience.
Innovation Knows No Bounds
Krishna is a deaf software developer who is passionate about sharing his knowledge and helping students to learn to code. He is fascinated by the ideas his students come up with that push technical boundaries.
Here's what our mentors say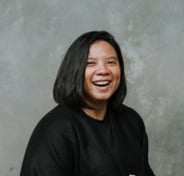 "Being involved at Markoding is truly an eye-opening experience for me. Seeing the students' passion for solving problems in their community makes me optimistic about Indonesia's future. Furthermore, I admire their ideation process. Not only do I have a chance to share my knowledge, but also I learn a lot from the bravery of these students to experiment and grow despite their limitations. Thank you, Markoding, for giving us professionals a platform to contribute, networking with other amazing mentors, and making my weekends and spare time fruitful!"

- Augustine Merriska, Co-founder & Director Meta Innovation
Let's empower underprivileged youth in Indonesia together!
© 2022 Yayasan Daya Kreasi Anak Bangsa